Why do cats wag their tails?
Unlike dogs who are known to wag their tails when they are happy or excited, cats wag their tails for an entirely different reason. So why do cats wag their tails? When a cat is wagging its tail, it usually means that the cat is actually annoyed or angry.
If your cat is wagging its tail at you, it is likely trying to tell you to stay away, or trying to warn you that it does not want to be messed with.
Why the tail?
Now that we understand why cats wag their tails from a basic perspective, we can further explore into why cats really wag their tails. Cats wag their tail because they feel threatened. Cats can be very sensitive animals, but they are also very persistent on guarding what they feel is rightfully theirs. Cats wag their tail because it shows a visible sign that is meant to be threatening. By wagging their tails, they show that they are annoyed, and will soon, if the reason they are wagging their tail is not solved, attack something or someone.
What makes them want to wag their tails?
Cats may wag their tails for a number of different reasons, because there are many things that can make cats upset. Some very common reason that cats can get annoyed are:
You are petting them too much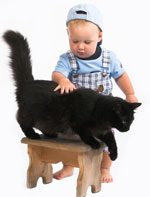 Cats are not always the lovable and comforting creatures that they appear to be. Though some cats enjoy to be pet all the time, there are many who despise being overly pet, and some who hate being pet in general. This is one of the major reasons that can lead to a cat wagging its tail.
They feel as if you are trying to threaten them
Cats are very territorial animals. They will often defend what is theirs using brute force. If a cat feels as if you are trying to take something from it that it wants, or that you are trying to replace it, it may act out very violently. One of the first signs of this is the wagging of its tail.
You are ignoring them
If your cat feels as if it is not getting enough attention, it feels obliged to get the attention that it thinks it deserves. If you do not give your cat enough attention, it can get very annoyed and angry.
They want you to do something for them
When a cat wants you to do something for it, it will not hesitate to ask you to do it! Cats can be very demanding pets, and it is often unclear what they want. When a cat wants you to do something for it, it could mean opening a door, feeding it, or even giving it a bath!
All in all however, the wagging of a cats tail usually means that it is annoyed or angry, but there are always some cats who will buck this trend, and instead wag their tails to show happiness and excitement.
Why do cats wag their tails? Watch this video to see more information!

Post by: Kristophe Sauvage